Be Jolly, By Golly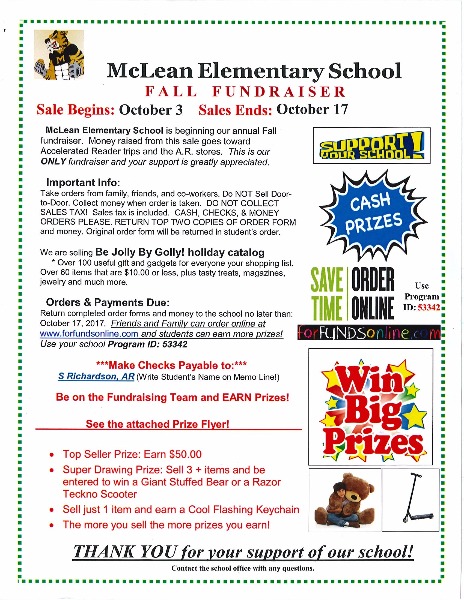 Mclean Elementary School Fall Fundraiser
Get your pocket books out and help the McLean Elementary Accelerated Readers earn money! The Be Jolly By Golly Fundraiser starts October 4th and ends October 17th. The money raised will finance the A.R. stores held in December and May as well as all the A.R. trips. Not only does the the money benefit the Accelerated Reader program, many proceeds are donated to the Pampa High School Special Olympics organization.
Included in the catalog is over 100 items ranging from tasty treats to jewelry and even magazines. For the top seller, a prize of $50.00 will be awarded. For those who sell 3 items or more, their names are put into a super drawing to win a giant stuffed bear or a Razor Teckno Scooter. Prizes are awarded based on the number of items sold.
Order forms are due no later than October 17th. Checks should be made out to S Richardson, AR, and the child's name should be written on the memo line. Friends and family who can't physically order can visit the online store at www.forfundsonline.com with the school program ID: 53342.